Doctors & Staff
Meet the experienced and friendly doctors and staff who make John E. Maanum, O.D. a proud provider of vision care products and services in Los Angeles.
Dr. John Maanum
Dr. John Maanum graduated from Southern California College of Optometry in 1999. He is a member of the American Optometric Association and the California Optometric Association. For the last two years he has served as President of the South Bay Optometric Society. His professional goals include providing the highest level of eye care, and satisfying the most demanding patients with superior eyewear and contact lens fittings.
Dr. Maanum is "TPA certified." This means he is licensed to treat many different eye conditions such as infections, allergies, foreign bodies, glaucoma, and dry eye syndrome. He also coordinates care for those interested in LASIK, cataract surgery, and other surgical eye conditions.
When away from work, Dr. Maanum enjoys spending time with his wife and his three children. When not attending to his practice or his family duties he also enjoys running, volleyball, fishing and watching football.
---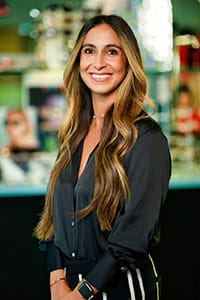 Dr. Michelle Partieli
Dr. Michelle Partieli is a TPA certified optometrist born and raised in Los Angeles, California. She completed her undergraduate studies at the University of California, Los angeles (UCLA) and went on to pursue her optometric education at Southern California College of Optometry at Marshall B Ketchum University in 2019. She continued her training with a residency in ocular disease and primary eye care at West Los Angeles VA hospital. There she became proficient in diagnosing and managing numerous ocular conditions and diseases such as glaucoma, diabetic retinopathy and uveitis.
Outside of professional life, Dr. Partieli enjoys spending time with her family and friends, trying new restaurants and spoiling her puppy.
---
Dr. Chau Tri Nakada
Dr. Nakada has been a welcome addition to Hawthorne Optometry since October 2019. She brings a passion and a strong depth of knowledge to improve the eye care and health of adults, children and infants. She grew up in Hawthorne and attended Leuzinger High School. After graduating with a B.S. in Neuroscience from UCLA, Dr. Nakada earned her Doctorate in optometry from the Southern California College of Optometry in 1999. In her graduate clinical training, she gained valuable experience in vision therapy and contact lenses. With extensive training in myopia management, Dr. Nakada uses specialized contact lenses to help improve vision and maintain lower levels of nearsightedness. She also speaks Vietnamese and can conduct exams in Spanish.
Outside of work, Dr. Nakada is a member of the El Segundo Auxiliary Children's Hospital in Los Angeles, a nonprofit organization that fundraises for the hospital.
---
Mark – ABO Certified Dispensing Optician
Mark is a ABO certified dispensing optician due to his innate ability to be attentive and years of extensive optician experience, he will address all of your optical needs with your visual comfort and style in mind. Each option of your eyewear will be explained and recommendations will be made. He is here to assist you in finding that perfect pair of glasses to fit the individual you. Mark will help you get the most coverage out of your vision insurance and make sure the process of your order goes smoothly from start to finish.
---
Genesis – Optician
Genesis is the optician who will welcome you the moment you step in the door. She will guide you through the process of your eye exam. Whether you are visiting our office for the first time or coming back for your annual visit, she will make sure to get you through the visit comfortably and efficiently. From your welcome form to pre-testing to checking out, Genesis will be there with you to answer any questions you may have so you leave with the utmost understanding of your eye condition and eyewear.
---
Jenny
Jenny has been an Optician for over 10 years. She enjoys helping people and has always focused on providing the best customer service. She is also bilingual (Spanish/English). You will also find her occasionally doing the pretests and answering phone calls. Jenny is someone who listens closely to our clients, takes the time to understand their concerns, and works with them to find the perfect pair of glasses. So she really is the jack of all trades here. In her spare time, Jenny likes to go biking, shopping, and traveling.